"We recommend BORAL GmbH as an expert in worldwide procurement and sales to all national and international customers, regardless of the size of the company."
"BORAL GmbH kann von uns als einer der bevorzugten Partner in unserem Geschäftsbereich empfohlen werden.
With more than 50 years' experience in products made from borosilicate glass for industry, laboratory and household applications, BORAL is a very valued business partner. Zusammenarbeit.
The international network within the above sector, as well as others, is remarkable. BORAL GmbH is always open to new experiences, business ideas and products products and has expert experience as an entrepreneur, in the best meaning of the word.
The combination of business development, product development and sales strategy with the personal skills of each BORAL employee is the guarantor of a successful presence in the market.
Finally, BORAL has always been a strong representative of our brand."
Thomas Biastoch
Sales Manager Business Development
DURAN® Consumer Glass

boral® — a German traditional company with a global market
boral® — a German traditional company with a global market
As an industrial partner of the world's leading manufacturers of borosilicate glass, we supply leading manufacturers of white goods worldwide as well as the major European retail groups. For us, being an industrial partner means meeting the very highest quality standards - without compromise. Anyone who supplies the industry must be extremely reliable - otherwise the production lines stand still. A high degree of responsibility and quality standards is therefore an essential part of our company philosophy.
The company boral® GmbH was established in 1967 as a family business by managing director Dr Henry Elmenhorst. The business focus was initially the sale of laboratory glassware made from borosilicate glass. However, the range was soon extended to technical glassware for the household appliance industry and household glassware, also made from borosilicate glass. Subsequently its position in the European household appliance industry was consolidated through the inclusion of other components for white goods. Today these are manufactured and marketed in other parts of Europe and in the Far East by joint ventures and allied companies and contribute considerably to the strong position of our industrial glassware in and outside Europe.
Today boral® is a global player: the company is one of two most important distributors of blown and pressed borosilicate glassware for industry and home, which explains our export share of over 70% and our import share of just under 60%. In addition to "industrial glassware" sector, the household goods sector is a rapidly growing segment for our company.
Because of our worldwide purchasing contacts, we are experts in the development and implementation of product ideas, brought to us by our customers, by means of automated or small-scale hand-finished glass production. In addition, a well-equipped central warehouse of over 10,000 square metres at our company site at Rosbach near Frankfurt am Main gives us maximum flexibility and fast delivery times.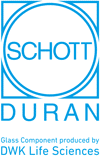 Household glassware is fitted according to customer specification in dedicated production lines at our site with coloured accessories, special packaging, price marking etc. Our partner of choice in this area is DURAN® Consumer Glass, produced by DWK Life Sciences. We trust the trademark DURAN® for outstanding features and unrivalled quality – of course made in Germany.
This is how we work to meet the requirements of our customers: